I don't usually post here, I am more of a lurker! But I thought some of you might be interested in what I am doing.
Recently I posted on a community I am members of about how people always ask questions or have rude comments about certain tools like prong collar, head halter, or things like dog weight, etc. We came to the conclusion that those comments were usually out of ignorance. You can see the topic here:
http://community.livejournal.com/dog...ng/354409.html
So I had the idea to make a little friendly booklet with information on certain things to give general information to the public available on the internet for people to print from home and keep in their bags or purse. Subject matters would range from collars, weight, behavior, importance of discipline/consistent training, dog + children ethics(how to properly ask to pet a dog), "dangerous breeds" (Telling people that there isn't such a thing)/how to recognize aggression, nutrition and food recalls, what is and how to recognize animal abuse and what to do, etc (actually anything we can put on there would be great).
I am looking for people who are into the idea and would like to help me write descriptions/information to put on there.
Here is a preview of something I started doing (it is far from being finished), I am hoping the final version will be recto-verso: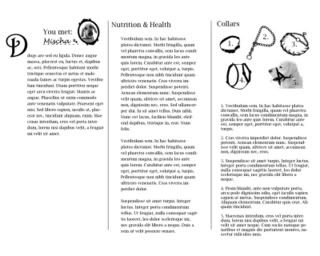 http://i107.photobucket.com/albums/m...eu/preview.jpg
Opinions, input, criticism appreciated! Let me know what you think!
Thanks a lot!