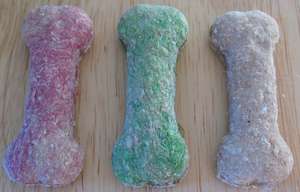 1/4 cup turkey hamburg
1/4 cup milk
1/8 tsp bone meal
1 tsp brewers yeast
1 tbsp wheatgerm
1 1/4 cup whole wheat flour
~~
Add all ingredients together except flour
Run thru food processor or a hand blender, Till meat is nicely blended together.
Add flour, mix to form a nice stiff roll,
dump out, knead & cut in shapes,
Bake 350 for 10 mins
Remove from oven and put in Dehydrator for 24 hours.
makes 35 small bones
You can cook them longer to get your biscuits harder,
and let them set to dry, I just prefer the dehydrator.
~
For a color variety just divide the roll and add drops of food coloring.
I don't usually bother with color as there is nothing good in coloring.
however there is always more natural alternatives to color such as beet juice.
You can also substitute the turkey for beef and make them red,
vegs for the green ones,
chicken etc for the lighter ones